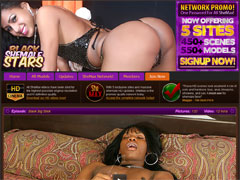 Description: If you thought that all shemales were the same then here's a site that's going to show you that you can narrow your shemale pleasures down from a broad general term to something as narrow as a skin color. At the same time this site is going to show you some very sexy babes who look so inviting that it's hard to resist their smiles.
Promises: It's not often that the first page of a site like this the one that warns you that you will see adult content if you go any further makes a promise but the warning page on Black Shemale Stars makes a promise. If you have already seen Wild Shemale Orgies then you will recognize the same character that gives you the warning and right there is a promise that this site will be just as good as the orgy site is. Apart from that there are the usual promises about the hottest black shemales in America and Brazil going wild in front of the camera and getting their asses reamed. The images and video trailers give you a promise of quality and when you see the screen size of those trailers you will be blown away. If those sizes are continued on in the members' area then you're going to be seeing some very high resolution video indeed. And the promise is also there that you're going to be seeing some very big cocks and that if you stay a member of the site you're going to be given access to three other shemale sites that are run in conjunction with this one.
First Impressions: First impressions are very good. This is a site that's neatly set out with a very uncluttered members' area home page. The links are easy to follow and you even get a peek at what's coming next. It's obviously quite a new site for there are only 16 updates in the site but new updates are being added every week so this is a site that is going to grow quickly. All the updates are listed with a few thumbnails some information about the length of the movie and the number of images in the gallery and clear links to follow to get to the image gallery and the movie page.
Impressions: If black shemales are what ring your bells then you're going to find plenty of entertainment in this site. The updates feature everything from some wild ass banging to solo masturbation action and even some kinky action with a banana and of course all the babes have sweet ebony skin. As I've already mentioned, the listing for each update includes a few thumbnails and some information about the length of the video and the number of images in the gallery, but that's not all. Members also get some "tags" that also give you a quick indication of what you're going to see. For example, the episode entitled "Three Big Legs" includes the tags "big balls" and "big dick" and I've got to tell you that they weren't kidding when they added those tags to that update. I have to say that everything in this site seems to be aimed at making the members' experience a very good one. The images and movies in the site can be viewed online or downloaded direct to your hard drive and personally I like that download option. It gives you the chance build up an incredible private porn stash that will keep you happy for a very long time to come.
The images that you get with each update are huge and that's just the low quality ones. Each set of images comes in both low and high quality versions. The size of the low quality images are 850x571 while the size of the high quality images are a whopping 1360x913 so whichever size you choose you're going to get images that really jump off the screen at you. Even the low quality images you get on this site are better than the best quality images you will find on many other sites. If you choose to download the images you find links to the zip files included in each update. If you want to look at the images online you'll find that there is a neat thumbnail gallery for each set and when you open one of the big pictures you also get links that will take you on to the next image so you don't have to go back the gallery each time you want to move on.
With the movies you get even more options than you do with the images. To start with there are four different quality settings you can choose from. The best is high definition WMV and it has a screen size of 1280x720. From there you move down to high quality Mpeg1 with a screen size of 848x480 and then there's medium quality Mpeg1 with a screen size of 544x304. The final quality option is a high quality flash version of the movie that also has a screen size of 848x480. Basically the bigger the screen size and better the quality the bigger the file size too and the file size for these movies is very big. For example the high definition WMV file for the "Sex in a Motel" update is 589 meg even though the video only runs for about 19 minutes. Despite those big file sizes you will want to see these movies because the action is as hard and dirty as you want to see and the technical qualities are as good as you will get anywhere on the Net today.
If those file sizes are a little too big for you to handle then all is not lost. Each movie also comes in short one-minute clips in your choice of high definition, high quality or medium quality and once again you can choose to stream the clip from the site or download it. Streaming and download times were very good for both the clips and the full-length movies.
Now if you think that all sounds good but there's just not enough content in there for your liking then let me tell you that members even in the first month get access to what the link says are "More Movies" and "More Photos". When I visited the site there were eight extra movies all quite short and 11 galleries of images. This site definitely does deliver on its promises.
Price to join:
$34.95 for 1 month(recurring)
$74.95 for 3 month(recurring)
$99.95 for 6 month(non-recurring)
Visit Black Shemale Stars