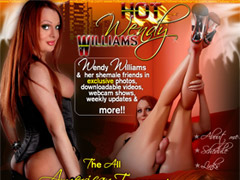 Pictures: Over 90 picture sets with 20 to 140 pictures each. Good quality, clear and sharp. She also has many friends galleries. All zip file downloadable.
Movies: You can find over 90 shemale porn movies inside, 10 to 20 minutes in length. Most are high quality with older ones a bit fuzzy. WMV and quicktime formats, one size.
Shemale action: Wendy does every type of shemale sex you can think of! Shemale domination, bondage, interracial sex, shemales on shemales, ass toying, shemales on males, shemales on females and just about everything else!
Updates & extras: Wendy Williams updates her porn site once or twice a week with fresh shemale sex sets. You can check out her forum, read her blog and see her when she does live webcam sex shows!
Wendy Williams is a longhaired redhead shemale from the USA. She has big tits and a long shemale cock with a full figure. Wendy is the star of her site of course, but she also has many shemale and transsexual guest that have their own sets in here. Wendy has lots of fun with them so you get to see her in hardcore sex with many big name shemale porn stars.
Her site is a nice earth tone color that is pretty simple to navigate. You can search for what you want by pictures, videos or her friends. The main page has an update list of what has been added and coming soon. So no problems with the layout, nice and easy.
Wendy Williams has been called the hardest working shemale in the biz, and that goes for her performances too! She does every type of shemale sex you could want. Wendy gets her ass fucked by many stud boys, females with strap-ons and lots of other shemales. But she also uses her own tgirl cock to fuck guys and shemales as well as hot chicks.
You can see many threesomes and gang bangs in here, as well as kinky bondage shemale sex. Interracial sex, extreme ass toying, cock sucking, kinky sex devices and more is all in here, you just have to search for it. There is nothing Wendy will not do, and she proves it inside!
Wendy currently has over 90 picture sets with each one having 20 to 140 pictures each. They are good quality and big, all downloadable. She also have a lot of friends picture galleries you can see too. You can find over 90 hot shemale porn videos inside, again all good quality except for a few of the oldest ones. You can use WMV or quicktime to watch them in one size.
Wendy updates her porn site one or twice a week with new hot shemale porn to see. You also can chat with others in the forum and read her sexy blog. Wendy also puts on live webcam sex shows that are a hoot to see, she has a schedule of them inside. If you like a personal shemale site with a hot babe that does it all, make sure you check out hot Wendy Williams!