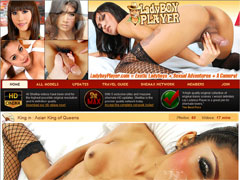 Description: Come into the world of a true ladyboy lover as he explores Asia in search of all the hot and horny ladyboys that he can find. And once you look at the tour you're going to see that this guy really does find some very stunning ladyboys. He says that he's living his hottest dream and when you see these ladyboys you're going to wish you were him.
Promises:The site promises to take you into the "fantastic world of ladyboys from a tourist's view". The tour lets you glimpse that world through some very large images and video so I guess that's a promise that you're going to see all that high quality content inside.
All the ladyboys on the tour are damn hot so I guess that's another promise right there plus the site shows updates coming at one every five days so there's another great promise that we'll have to see if they keep.
First Impressions: Well this certainly doesn't look like a site that you could get lost in. One of the first things I saw when I logged into the site was a navigation bar with all the links clearly displayed and that's a great thing to see.
The site also clearly displays what the next episode or update will be. While the ladyboy in that update isn't exactly stunning most of the previous ones are really going to get your cock throbbing. Updates there were 87 of them when I was in the site and they certainly do seem to be going up at one every four or five days so it won't take long to build up quite a library of hot and horny ladyboy updates.
Impressions: Well let me say right from the start that this is a site that keeps its promises. The updates happen every four or five days, the images are big so is the screen size of the videos and the babes sure are hot. There's plenty of content to keep you happy and there's even some extra content for you to enjoy too.
Each update or episode comes complete with images and video and while the video isn't very long most episodes I looked at had video that ran for under 20 minutes what you will see should really blow you away. The camera work puts you right there in the frame and if you were any closer it would be your cock disappearing up that sweet ladyboy's tight ass.
You will also like the way this site delivers the video. Members can choose to either download or stream the full-length video direct from the site. If you choose to download the video you have to decide on the level of quality you want and that has got to be a major plus for this site because even its lowest quality is far better than what other sites offer as their best quality.
For example with the video members get the choice of high definition WMV quality that comes with a huge screen size of 1280x720, high quality Mpeg1 that comes with a screen size of 848x480 or medium quality Mpeg1 that comes with a screen size of 544x304. You can stream those bigger file sizes direct from the site or you can choose to stream in a good quality flash format too. Whether you choose to stream or download you will find that it all happens quite quickly.
Of course not everyone wants the full-length video and if you're one of those guys then this site has you covered too for it provides one-minute clips that you can stream or download too. You also get the choice of quality with these one-minute clips, everything from high definition right down to medium.
The image galleries are going to knock you out too because, even here, you get a choice of quality. Members can view the images in high quality which for this site is 1360x910 or low quality and that comes in at 850x569.
Whichever option you choose when you want to look at the pictures you'll find that they're crisp and really put you in the middle of the action just as the video does. Members can choose to view the pictures online or they can be downloaded in a neat zip file.
If you choose to view the sites online you will find that they come in thumbnail galleries that really do give you a big thumbnail and once you're into the gallery you can move from one image to the next without the need to return to the gallery page each time you want to move to the next image. Unlike some of the other shemale sites run by the people who present Ladyboy Player the image galleries are not all that big but the photos are definitely worth looking at.
A membership in Ladyboy Player entitles you to a 25% discount on the membership fee for another of their sites and members also have some extra videos and image galleries to enjoy. At the time I was in Ladyboy Player members also had access to 10 additional ladyboy movies and 33 additional ladyboy galleries.
Conclusion: Whether or not this site offers good value for money is something that's not easy to answer. On one hand the price of a monthly membership is relatively high when you compare it to the amount of content that you will currently find in the site and there are few bonuses to sweeten the deal.
On the other hand what you get in the site is outstanding quality and a very special niche that few other sites cover as well as this one does so ultimately the question of whether or not it's good value for money is really up to you and whatever kinks you might have. Personally I liked the site and there's more and more content being added every four days so it's definitely worth taking a look at.
Price to join:
$34.95 for 1 month(recurring)
$74.95 for 3 month(recurring)
$99.95 for 6 month(non-recurring)
Visit Ladyboy Player