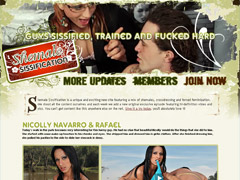 Pictures: Over 62 forced crossdressing picture galleries with around 200 pictures each. Nice and big high quality pictures. Use a slideshow feature and download them in zip files
Movies: Shemale Sissification has over 62 forced feminization porn movies done in high definition for sharp clear videos. You can download them in three sizes or watch them in flash.
Shemale action: Hot dominant shemales force crossdress sissy boys into pretty, girlie clothes, complete with wig and makeup. Then they force them to suck those big shemale cocks before fucking them silly up the ass. Has some bondage play and often several shemales on a sissy boy.
Updates & extras: A new sissification picture and movie porn set is added each week. You can also chat with some shemale webcam babes for free
One of a kind, this site features hot dominant shemales force crossdressing their sissy boy studs into pretty clothes, putting on makeup and wigs, then fucking them silly with those big shemale cocks! Crossdressers and sissies will get a big kick out of this forced feminization and sissification porn site with the hottest shemales. It's the only site I know of with sexy shemales crossdressing sissies
It has a nice earth tone look with a simple to use layout. You search what you want by model or the updates. Then once you pick your set you have cool tabs to take you to the pictures or videos. You also can check out shemale webcam chicks and chat with them, however a live show will cost you extra. Very easy to use and get to that crossdressing porn you want!
Crossdressers and shemales is a good combination and they do it well here. The dominant shemales are super hot with big cocks and they enjoy force feminizing their sissy boys. They dress up their sissies in pretty panties, dresses, stockings, wigs and makeup. Then whip out those shemale dicks and fuck their sissy faces before splitting their ass wide and hardcore fucking them. Bondage play and often two or more shemales abusing a sissy is also inside.
The pictures are high quality and lots of the shemale sissification sets are done outside. You can use a slideshow feature and zip file download them. The forced feminization movies are shot in high definition for a sharp, clear look. Download them using three sizes or stream flash view them. The sets are a bit plain, like they are all done on a farm. Maybe it's a secret shemale sissification farm!
Shemale Sissification updates the site once a week with a new shemale picture and movie set. It's the only porn site I know that combines hot shemales with cross dressers. The forced feminization is kinky and hot, with some of the best looking shemales on the net. If you're a cross dresser who would love to get fucked by a shemale make sure you check this site out!
Price to join:
$29.90 for 1 month (recurring)
$69.90 for 3 months (recurring)
$99.90 for 6 months (recurring)
Visit Shemale Sissification