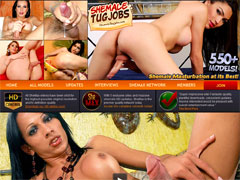 Description: Well if you think from the title that this is a site about hot and horny shemales giving lucky guys like you a tug job then I'm sorry, you've got the wrong mental image here. On the other hand if you thought that the site was all about hot and horny shemales giving themselves a hand job then you're right on the mark. And you might even see some acrobatic shemales giving themselves more than just a hand job too.
Promises:Shemale Tug Jobs promises to give you high quality pictures and "top notch" high definition videos of spectacular episodes showing slinky and erotic shemales that take it all off and stroke themselves just for you. That's the promise that the site makes right there on the very first page of the site. Then there are other promises made with the photos and the video that they show you on the tour. The images are big and clear and video and the size of the screen on the video player is very impressive. The site also promises a loyalty bonus for members and the longer you stay the more shemale sites you get access to.
First Impressions: Well my first impressions are good. This is a site that looks as though it's going to be very easy to find my way around and it really does look as though the promises made out on the tour are kept here in the members' area.
Even from a quick look you can see that the babes are absolutely stunning and the video and images are going to get you up close and personal to all the hardcore action. And if you're like me you will probably be wishing that you could see these hot and horny sluts doing a whole lot more than just getting naked and stroking their cocks.
Impressions: When I looked in the site there were 81 updates or episodes for members to enjoy and new episodes are being added every week. And if that's not enough for you then there are a small number of very short extra movies and 138 galleries of extra images.
Each episode gives you a video and a gallery of images. You will find that most of the galleries contain well over 100 images and some go as high as 200 images or more. The images come in two levels of quality. What the site calls their high quality images have a screen size of 1360x913 while what the site calls their low quality images have a screen size of 850x571.
Check those image sizes against anything you've seen in any other sites and you'll see that the low quality images are anything but low quality. Members have two options to choose from with the images, they can either view the images online and there neat thumbnail galleries to help them do that or they can download the images in a zip file direct from the site. It's a great way to build up your own library of hardcore images that you can look at any time you want.
The video in each episode also comes in a number of quality levels ( four to be exact ) and once again what you see here is a lot better than you might find on other sites. The best quality and biggest screen size is the high definition WMV version that comes in a screen size of 1280x720. The lowest quality is one of the Mpeg1 versions that the site describes as "medium quality" and comes with a screen size of 544x304.
There is also a relatively small file-sized flash version of the movies but it's only available if you choose to stream the video direct from the site. Members do get the choice of streaming from the site or downloading and you would have to be crazy not to take the opportunity to download the video. If you download it then you've got it on your computer and you can watch it any time you want to.
Of course some people may not have a high-speed internet connection so you may not be able to handle downloading the full-length movie or streaming them either and so for you there are a collection of one-minute clips for each episode. Members also get to choose the file size of the one-minute clips that they want to stream or download.
Now I've got to tell you about the technical qualities of images and video that you get in each episode and what I can tell you can be summed up in one word OUTSTANDING. Everything about these videos is outstanding you get great camera angles that put you right there in the frame. You get a big picture that's clear and crisp and really pushes the envelope when it comes to quality and you also get great sound too. Add some of the hottest tranny babes you have ever seen to the mix and you're going to have a wild time that will just blow you away.
Because of the nature of the action you will see in these videos they don't run for a long period of time. Most of the videos I looked at ran for something under 20 minutes but that's more than enough time to enjoy all the pleasure that these babes have to give you. Apart from the quality and the content I can tell you that the members' area is very well set out and there are plenty of links for you to follow. You certainly won't miss any of the episodes and you won't miss finding that extra content either.
Conclusion: While all the action you're going to see here is solo babes this is still a site that has a lot going for it. It's got a fine collection of shemales for you to enjoy and with a new one being added every week you're certainly not going to run out of horny shemale action.
Price to join:
$34.95 for 1 month(recurring)
$74.95 for 3 month(recurring)
$99.95 for 6 month(non-recurring)
Visit Shemale Tug Jobs