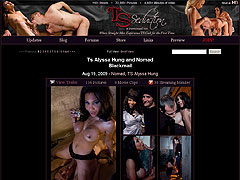 Pictures: TS Seduction has over 22,000 porn pictures from 110 shoots. They are shot in fantastic high resolution format for big and super sharp pictures. You can pick pictures from several scenes in the movie, all are zip file downloadable
Movies: You can find 110 full length shemale porn movies inside, all shot in crystal clear high resolution for the best quality. You can stream the full movie in a flash player, or watch smaller clips in several different formats. You also can download the full movie
Shemale action: Sexy shemales that abuse and hardcore fuck straight guys, that's what TS Seduction is all about! Often you can see two or more hot shemales gang up on one slave stud as they put him in kinky bondage, shove their shemale cocks down his mouth and fuck his tight ass. The shemales often wear kinky fetish wear also like latex and leather
Updates & extras: About twice a week TS Seduction adds a new full picture and movie set for fresh shemale abuse porn. You can read their blog, join their forum and talk to the models and browse their bondage store
TS Seduction is made by the people from Kink, the leader in bondage and extreme hardcore porn. They have a full line of top quality porn sites, and TS Seduction is their shemale site. It features straight men getting abused and fucked by sexy shemales of all kinds. The bondage gets extreme, and lots of the sets have two or more shemales abusing their slave. It's one of the best shemale domination porn sites on the net
Done up in black, purple and red, it's a cool looking site that fits well with the bondage and abuse porn. The home page has the latest sets, and you search for what you want by updates and models. Once you find a set you want it gives you all the options for viewing the pictures, preview or movies. There are links to the blog, forum and sex store also. It's a good layout that looks right for an extreme shemale bondage site
TS Seduction is a shemale domination porn site. These sexy shemales take straight studs and put them in kinky bondage and other cool devices, then fuck them silly after some abuse. They often wear fetish clothes like leather, latex and other hot stuff. Dungeons, some outside shots and other locations keep it interesting. Often two or more shemales gang up on a slave and really pound his ass hardcore with those shemale cocks!
All of the pictures and movies inside are high definition for the best, highest quality images. The pictures can be zip file downloaded. You can watch each full movie in a streaming flash player, or download smaller clips in several different formats. TS Seduction has very good sets that really make the domination sex fantastic!
Almost twice a week they add a new full set for fresh bondage abuse action. You can read their blog, forum and check out their bondage sex store. TS Seduction is one of the best shemale domination porn sites you can find, so if your into that make sure you check this site out!
Price to join:
$29.95 per month (recurring)
$49.95 two months (recurring)
$59.95 three months (recurring)
$97.95 6 months (non recurring)
Visit TS Seduction