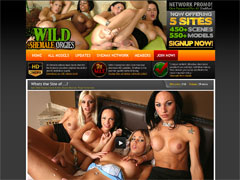 Description: It's all about getting drunk, getting wild and having fun and there's no doubt that the hot shemales you're going to see in this site are definitely getting wild, getting drunk and having a lot of fun with some of the hottest orgy action you're going to see. Even just taking the tour outside the members' area is going to blow you away.
Promises:There's a promise right there in the title of the site "Wild Shemale Orgies" and they promise that you're going to see "massive group orgies with shemales that aren't shy of the camera" and to back up that promise you're going to see plenty of nasty action on the tour. To give you some idea of the action that you will see inside there are some great thumbnails and video clips previewing each update and those video clips among the biggest screen resolution that you will see anywhere on the Net. So there's another couple of promises for members hot action that's going to fill your computer monitor. Then there are other promises made with the photos and the video that they show you on the tour. The images are big and clear and video and the size of the screen on the video player is very impressive. The site also promises a loyalty bonus for members and the longer you stay the more shemale sites you get access to.
First Impressions: Well it's good to see a members' area home page that is well set out and with easy to follow links. All too often you join a site and find you land on a page that is so jumbled it's hard to follow but you won't have that problem here. There's some text to read a hint of what the next update will contain latest news about the site and then you're down to the updates and below that there are some links to extra movies. There are also some easy to follow text links across the top of the page so you're not going to get lost or miss any of the action on this site. It's also obvious that this is quite a new site for there were only nine updates in the site when I looked inside but new updates are being added about every 10 days so it won't take long for the members' area to fill up with content.
Impressions: In case you didn't notice it on the tour this is mainly a site that provides members with access to some very hot and horny movies and the movies are long. I didn't find any movies that ran for less than 26 minutes and the longest ran for 41 minutes so if you're into shemale movies then this is definitely the site for you. The movie that comes with each update come in a variety of file sizes, resolutions and formats. The biggest of everything is high definition quality WMV in a resolution of 1280x720 and the file size for that is very big. Hi quality Mpeg1 is the next biggest and with that you get a screen size of 848x480 and a much smaller file size that you get with the high definition WMV version. From there you go down to a high quality Flash version that has a screen size of 848x480 but an even smaller file size that the first two that I mentioned. The smallest of everything option is the medium quality Mpeg1 version that has a screen size of 544x304 and a relatively small file size. I say relatively small because what is small for this site is quite large for many other sites and that only means one thing, the technical qualities are going to blow you away. When you have decided on the quality of the movie you want you then have to decide whether you want to stream direct from the site or download it to your own computer. Streaming times seem quite good but if you stream it you don't get to save it so you can watch it later and that's why I always choose the download option. You may not be seeing the video instantly but once it's down on your computer you've got it to watch any time you want. Download speed on this site is quite good too. If you choose to stream the movie just left click on the icon if you choose to download it just right click on the icon. All movies are also available in a series of one-minute clips that come in your choice of high definition, high quality or medium quality. Like the full-length movies these short clips can be streamed or downloaded. Whatever you choose when it comes to the movies you're going to end up watching some very nasty action. The camera takes you right into the middle of the orgy and you're so close you can just about smell the sex as these hot babes do all the nasty fucking that you want to see. The action really is raw and uncensored and it's all happening right in front of you. While the focus of the site is the movies those who like to see and collect quality images haven't been forgotten. Each update comes with a large collection of still images and members can choose to see them in high quality with a screen size of 12380x960 or low quality with a screen size of 800x600. Once again what this site describes as low quality is far better than many other sites provide as their best quality. Members can choose to see the still images online or download a zip file direct to their computer. If you choose to see them online you will find that each set of images comes with a neat thumbnail gallery and you can move through the images without the need to return to the gallery each time you want to move to the next image. If you're on a slow connection then I really would suggest that you grab the zip file because even on the low quality images have big file sizes that may take some time to load. As I mentioned earlier, there are plenty of extra movies and extra image galleries to keep you coming back for more and that has definitely got to add value to a site that is still so new that it doesn't have a lot of updates. If there was one negative I found about this site it's that to me an orgy usually consists of more than four people but foursomes are all you will find here. I suppose that's nitpicking to some extent but it is something that stood out to me. Apart from that this is a site that keeps its promises
Conclusion: Wild Shemale Orgies is definitely a site that's worth joining. That might sound strange seeing that it's new and doesn't have a bucket load of updates in there yet but the quality of this site will just blow you away. I haven't found many sites that offer you the quality content that this site does and once you've seen the photos and movies that this site has for members you're going to find that many other sites out there are just second-rate in comparison.
Price to join:
$34.95 for 1 month(recurring)
$74.95 for 3 month(recurring)
$99.95 for 6 month(non-recurring)
Visit Wild Shemale Orgies